The Start of Every Memory
Huma Liptak '18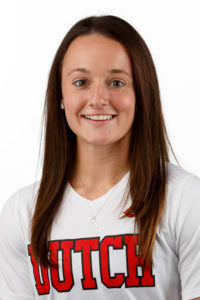 If you asked most people to describe a locker room, they would probably give you a straightforward answer about a place to change clothes and shower. They might say something about getting ready or storing their stuff. But if you ask any of the Central College women's soccer players or any other student-athlete at Central, they're going to tell you something very different.
For us, our locker room is a place where we might share our dreams, might pray for a victory and it's the place we might cry after a hard loss. For the Central women's soccer team and for me, the locker room was a place where we sang "Man in the Mirror" and the place where we bonded over wins and losses and all things in between. It's a place where I put on my cleats and it's the place where I made friends over a teammate braiding my hair. It's the place I laughed over presents from my teammates and the place we cried when our teammate got hurt. The locker room might just be an unimportant room in a building to most people, but to the student-athletes of Central, the locker room is the start of every memory.
From the day of my recruitment to my final game, the locker room was a place I processed so much of my Central experience. It's the place where I reflected the lessons learned on the pitch, but more important in the way those lessons applied to the rest of my life. A gift of a locker room is not about a place to change clothes and store cleats, it is a gift for the memories future generations of Central student-athletes will create together in a space that is theirs.
---
Huma Liptak, a 2018 Central graduate, is a former women's soccer player for the Dutch. Originally from Fairfield, Iowa, Liptak majored in exercise science. She now lives in Des Moines and is in her first year of medical school at Des Moines University.
---