The descendants of Pella Corporation founder P.H. "Pete" Kuyper, along with their family foundations, teamed for a transformational $4.2-million gift for the Forever Dutch initiative, the largest gift in Central's 164-year history.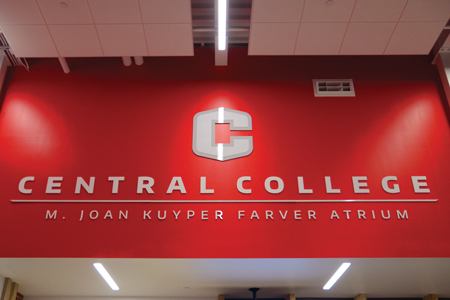 The donation included a lead gift from the late M. Joan Farver, former chair of Pella Corporation and long-time Central trustee. Joan, who passed away Feb. 27, 2017, at the age of 97, was the daughter of P.H. Kuyper. The new atrium is named in her honor – the M. Joan Kuyper Farver Atrium, adding her name to those of other prominent family members. The A.N. Kuyper Athletics Complex is named for Farver's grandfather, while H.S. Kuyper Fieldhouse carries the name of her brother.
The Kuyper, Farver and Griffith extended family members were large contributors to numerous campus capital projects and provided significant scholarship support, most notably through the Rolscreen Scholarships. Established in 1952, they remain Central's top academic scholarships and played a fundamental role in establishing the college's academic strength. The family's benevolence also provided for the college's Chapel, constructed in 1982 and representative of Central's spiritual undergirding.
"In particular, Joan Farver felt a great responsibility in stewarding the family's legacy in the college athletics complex which bears the family name," Central president Mark Putnam said. "She was a woman of great humility. She never sought recognition, nor was comfortable receiving it. But it's fitting that now her name has a place along with other family members in the Kuyper complex.
"I'm especially pleased that, before she passed away, we were able to inform her of our intention of naming this space for her. It was not something she expected, but it was clear that this honor meant a great deal to her. And, it's immensely gratifying to us to be able to honor her in this way."