Inside the Locker Room
Joe Flaherty '14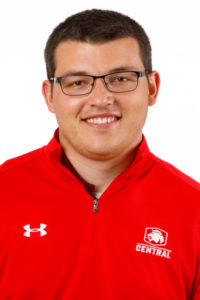 If you weren't involved in college athletics, the idea of a locker room probably doesn't mean much to you. You probably just get a bit queasy imagining what it smells like and don't give it a second thought. You'd be very correct about the smell, but you also clearly don't understand the significant role the locker room plays in the bonding of a team.
It can certainly be intimidating at first to walk into a room full of 130 college football players as an 18-year old freshman. Especially when they are remarkably larger and more athletic-looking than your high school teammates. Our old locker room was much smaller than the state-of-the-art space the team has now, so we spent a lot of time in close quarters with each other. Some of the most significant relationships I developed were with the guys who had lockers right next to mine. I can still walk into the old locker room and pick out my locker and tell you who was right next to me.
Practices required all our focus and much of our energy, but time spent in the locker room is when we were all able to let our guard down. Whether it was guys dancing (who shouldn't have been dancing) on Techno Tuesdays or guys singing (who shouldn't have been singing) on Country Fridays, the personality of our team really shone in the time we spent in our sacred space. While I'll always remember the moments on the field with big wins over Coe and Wartburg, I'll always remember the locker room as well.
---
Joe Flaherty is the assistant sports information director at Central. He graduated in 2014 from Central with a degree in social science. Originally from Burlington, Iowa, Flaherty played four years of football and two years of baseball for the Dutch. He also was involved in Fellowship of Christian Athletes and Campus Ministries.
---