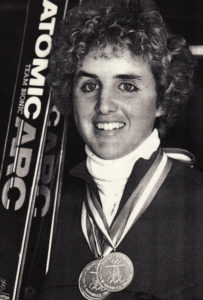 One of the most accomplished athletes in Central College history despite never earning a varsity letter, the late Sheila Holzworth '85 will be formally recognized in newly expanded P.H. Kuyper Gymnasium.
The Dutch women's varsity locker room will be named in her honor in a ceremony with family and friends Saturday, Nov. 11. She left the college a major estate gift that was part of the $12 million Forever Dutch initiative that included the recently completed gymnasium expansion. Fundraising is ongoing for renovation of the building's interior, which will include the locker room named for Holzworth.
Holzworth, who died in 2013, was sightless, yet competed around the world, winning a downhill skiing gold medal in the 1984 Blind Olympics and was the first sightless woman ever to scale Mount Rainier in Washington. She graduated from Dowling Catholic High School in West Des Moines. At Central, Holzworth competed for one season as a sprinter on the indoor women's track and field squad.
Members of Holzworth's family will be recognized at halftime of Central's football game with the University of Dubuque.
Holzworth also participated in World Cup blind water skiing competitions, served as president of the Saylorville Dam Snowmobile Club, was a member of the Iowa Thoroughbred Association and was cited as one of the Top-10 Outstanding Young Americans, while also receiving the First Lady of Iowa Athletics Award. She was invited to the White House for receptions with Presidents Ronald Reagan and George H.W. Bush.
The renovated women's locker room will mirror the spacious new locker room constructed as part of the gymnasium expansion. The college's athletics equipment room will be rebuilt and an expansion and renovation of the athletic training room are also part of the lower-level improvements. Subsequent stages of the multi-million dollar renovation will provide for new team meeting space, offices and conference rooms.