Major Gift Propels Forever Dutch Project at Central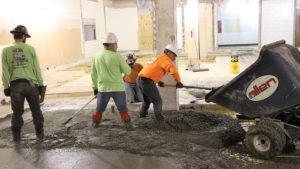 With a powerful closing kick, Central College is streaking to the finish line of the next $3 million phase of the Forever Dutch® initiative.
Fueling the surge to complete the $18 million expansion and renovation of P.H. Kuyper Gymnasium is one of the initiative's most impactful gifts, a major donation from Curt '88 and Mary Holden Blythe '90 of Williamsburg, Iowa, that puts the college within striking distance of the goal.
"This is a transformative gift and we are profoundly grateful," said Central President Mark Putnam. "But the Blythe family's multi-generational contributions to Central College extend far beyond financial support. In evolving roles as Central students, athletes, alumni and parents, they have made a substantive difference in the life of this institution.
"Their remarkable generosity is exceeded only by their passion for providing for others. They are fervently committed to ensuring that future students benefit from the Central experience as richly and broadly as they have."
Beyond helping students, the Blythes sought to recognize those who served Central years ago as well as those who do so now.
"It's about the relationships," Curt Blythe said. "When you're a 17- or 18-year-old kid and you go to a place like Central, you really don't know what to expect. But a lot of that becomes clear down the road as you mature and gain perspective on how much the people there have impacted your life. And for Mary and me, that's truly the case. There are so many great people that make Central College what it is. We're in a blessed position to be able to do this and it's just a reflection on how we feel about the people we've known in the past and those currently on campus.
"We just felt like it was the right thing to do."
While downplaying their own contributions, the Blythes are pushing other alumni and college friends to take the extra steps needed to reach the goal. A $3 million renovation to P.H. Kuyper Gymnasium's first floor is speeding toward an Aug. 3 completion. Curt Blythe said he is eager to see work swiftly ensue on the next $3 million phase, which will bring new life to the building's second floor.
"I encourage others to seriously consider making a gift to the Forever Dutch initiative and complete this project," he said. "They should reflect on the impact Central College has made in each graduate's life or in their family's lives. We want to continue creating an environment where future generations can experience that same kind of impact."
The lower-level renovation to the 51-year-old gymnasium launched Feb. 24. The work includes construction of a spacious women's varsity locker room with a team meeting room, a reconfigured athletic training room that will provide more treatment space and an expanded athletics equipment room.
The anticipated second-floor renovation will feature team meeting space, a new welcome center, recruitment space, offices and visitor locker room.
The gift extends a legacy of generosity for the Blythes, whose family connections to Central run similarly deep. Curt and his brothers, Jeff '86 and Matt '93, graduated from Central. Curt and Mary are also Central parents, as sons Trenton '08, Holden '12 and Corbin '17 are alumni.
Even son Austin, the lone family member who didn't attend Central, maintains close ties. Now a Los Angeles Rams offensive lineman, he played football at the University of Iowa and was also a three-time state championship wrestler at Williamsburg High School. He was introduced to Central athletics director and wrestling coach Eric Van Kley while still in high school and both were involved in national amateur wrestling tournaments.
"He and Austin have developed a really nice relationship, so Central College has impacted everybody in our immediate family and beyond," Curt Blythe said.
Van Kley described the Blythes' generosity as game-changing.
"Their gift and the gifts of hundreds of others will help provide life-impacting opportunities for Central student-athletes for years to come," he said. "But even more, as I've grown connections with our alumni wrestlers and other former athletes, I appreciate the friendship that I've developed with Curt and Mary and knowing that I can always count on them for support and guidance. One of the things that impresses me about them is that they have no interest in personal recognition but have an understanding of the impact that they can make and a desire that their support will motivate others."
Curt Blythe was a member of four conference championship and NCAA Division III playoff football teams as an offensive and defensive lineman at Central and was also a heavyweight on the Dutch wrestling team, which won a pair of league titles during his four years. He was a three-time letter winner in football and received the Wendt Award in 1987 as the team's top offensive lineman. He lettered twice in wrestling and served as a team co-captain.
Trenton lettered three times as a defensive stinger, Holden was a four-year letter winner as a defensive end and Corbin lettered three times as a defensive lineman after transferring to Central. Corbin was a two-time first-team all-conference pick and served as a Dutch co-captain. All three earned academic all-conference distinction.
Faces have changed but as parents, Curt and Mary Blythe observed the same kind of lasting relationships they developed at Central are impacting the lives of the college's students today. That's among the many constants they see.
"I think it's a rock-solid environment that you trust," he said. "I'm sure my parents felt the same when Jeff and I went off to Central in the mid-80s. You know you trust the people who are there. That was no different then as it is now, both academically and athletically. There are certainly peaks and valleys just like in any other part of life, but I think what endures is the trust you have in Central College and the integrity of its leaders.
"I just really appreciate the culture and the environment that the leadership has tried to create at Central and has enhanced throughout the years."
While Curt values the education and experience Central provided, perhaps even more he cherishes the friendships that were generated there. He cited past and present faculty members and coaches, including his football coach, AFCA Hall of Famer Ron Schipper, as well as staff members like retired vice president for advancement Dave Sutphen '61 and his wife Ardie Pals Sutphen '64, who remain in close contact. And teammates became lifelong friends.
"Probably the best memories are the relationships I had with guys I competed with, in my case, both wrestling and football," he said.
Enabling others to develop those same life-defining connections is ultimately what fuels the Blythes' stewardship.
"I think Central College is doing a lot of really good things," he said. "And our family wants to see Central continue to be successful long into the future."
---