Central Club Makes Major Gift for Forever Dutch®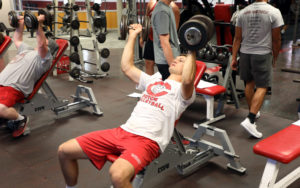 One of Central College athletics' most faithful partners is coming up big once again through a major gift to the Forever Dutch® initiative to renovate and expand P.H. Kuyper Gymnasium.
The Central Club, among the nation's oldest small-college booster organizations, has committed $150,000 to the next phase of the project. The gift is designated for new custom flooring and equipment for the Ron Schipper Fitness Center. The surface will be more forgiving, eliminating the raised four-inch platforms that engulf a large section of the facility.
"It will open up a lot more space in front of all those lifting racks that can be used for a warm-up area or for additional equipment," strength and conditioning coordinator Kyle Johnson said. "It's going to make our room bigger without moving out equipment."
The surface provides other advantages as well.
"It's antimicrobial and a lot easier to clean," Johnson said. "It's also more durable. It's not going to show nicks and scrapes."
The 7,200-square foot facility opened in 1999, named in honor of College Football Hall of Fame Coach Ron Schipper, who guided the Dutch from 1961-96.
"One of the things that really appealed to us about this project is that it's something that will impact every Central College student-athlete," said club president Mike Dahlhauser '94. "We love supporting some of the individual sport projects, too, but this is something that will be used year-round. It's a necessary project and one that fits very well into the mission of the Central Club."
Since its organization in 1959, the Central Club has provided Dutch student-athletes with equipment and support that the college would not otherwise be able to obtain. More than 600 members annually support the Dutch, providing assistance for athletes in all 20 of Central's varsity sports.
"What really makes the Central Club special is its focus on serving student-athletes," said athletics director Eric Van Kley. "I think that makes it unique. This organization includes many of the college's most passionate and faithful supporters. Year in and year out, the Central Club is there. It's about more than the dollars they provide, it's the commitment. Central Club members are all in. We're extremely grateful for this gift, which is one of the largest in club history."
The $18-million Forever Dutch® initiative launched with a $12-million building expansion in 2017. The second $3-million phase to the lower level, which includes a new women's varsity locker room and a transformed athletic training room, is nearing completion and the college hopes to quickly transition to a $3-million third phase of the building's upper level later this year.
It will feature team meeting space, a new welcome center, recruitment space, offices and an updated visitor's locker room, along with the fitness center upgrade.
---