Central's Kuyper Gym Renovation Speeds Toward Completion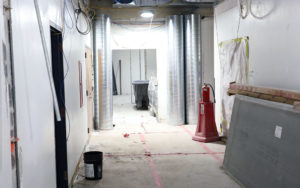 Pushing past a few complications inflicted by a week of sub-zero Iowa temperatures, work on the $3-million upper-level renovation to P.H. Kuyper Gymnasium is speeding towards an April completion.
It's the third piece of the $18-million Forever Dutch® initiative for the building's renovation and expansion.
According to Vice President for Advancement Sunny Eighmy, 2,712 Central alumni and friends provided support for the initiative, the most donors ever for a college project.
The second phase of the renovation, focused on the building's lower level, was completed in the fall and with the announcement that the college completed fundraising for the Forever Dutch® initiative in November, construction crews rolled immediately into the third phase.
Major demolition work is completed with the exception of a couple more difficult areas to access, according to Director of Facilities Maintenance Craig Roose, who is helping oversee the renovation. Masons have a majority of the block reinstalled in the visitors' locker rooms and have poured some floors in areas that had to be demolished. HVAC installers have ductwork roughed in and plumbers also made progress while waiting for some additional walls to be completed. Electricians installed conduits in walls. Framing work is largely completed with some sheetrock hung and a first coat of bright Central red paint already applied to some new offices.
Roose said masons have completed work in locker room wet areas, including showers, but need some additional flooring to be poured before beginning tiling. However, the masons did experience delays because mixing mortar outdoors was temporarily stymied by the polar vortex that wreaked havoc in the Midwest. There were also some delays in product shipment.
Still to be completed is a more visible aspect of the project, the installation of two additional windows adjacent to two existing windows that overlook the competition area of the gym. The windows will flank the west-side scoreboard, with one added to room 216, which is often used as a reception area for prospective students and other visitors as well as meetings. The other window will be part of a new video room that teams will utilize.
Roose said unlike many renovation projects, progress has not been hindered by unwelcome surprises.
"You never know what you're going to find when you open things up, but we're pleased with the project thus far," he said.
In 2016, the descendants of Pella Corporation founder P.H. "Pete" Kuyper and their family foundations teamed for a $4.2-million lead gift for the complex that bears the family's name. It's among the largest gifts in Central's history. The driving force behind the family gift was Kuyper's daughter, M. Joan Farver, a former Pella Corporation chair and longtime Central trustee. Farver died in February 2017 at age 97. The new building entrance atrium was named in her honor.
Curt '88 and Mary Holden Blythe '90 also provided a powerful gift in the past year, with impactful contributions from several others.
Given the disruptions the pandemic already inflicted on athletics competition, reducing the number of events and limiting practice opportunities this year, the renovation work is probably well-timed, athletics director Eric Van Kley said. Nonetheless, student-athletes and staff members are eager to make use of the much-needed new spaces. A few staff members remain in P.H. Kuyper Gymnasium, although in temporary locations, but a majority of the coaching and administrative staff have been scattered to spaces in Prins House, Peace Hall and the Helen Jean Hislop Center.
"Certainly there are some minor inconveniences that accompany construction work and for those of us still in Kuyper Gymnasium, there's a little daily background noise but really, things have gone incredibly smoothly," Van Kley said. "That's a credit to some hard-working staff members who have carefully mapped out the necessary adjustments as well as plenty of patience and understanding from our student-athletes. Everyone understands that a few disruptions are well worth it. We're all eager to see what the new spaces look like and tremendously excited to begin taking advantage of all they can offer."
The project is about more than bricks and carpeted floors, he said.
"We're proud of the Central athletics legacy," Van Kley said. "And we're proud that we're making, not only P.H. Kuyper Gymnasium, but the entire A.N. Kuyper Athletics Complex a real showcase to better serve our more than 700 student-athletes. We are all so grateful to the many generous donors who made this possible."
---