Central Finishes Fundraising for Forever Dutch Initiative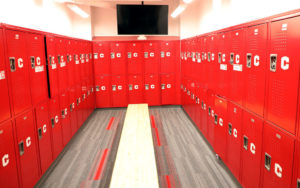 Declaring victory in the most ambitious athletics capital initiative in its 167-year history, Central College has completed fundraising for the $18 million Forever Dutch® initiative.
With the announcement, approval was received to proceed with the third phase of the renovation and expansion of P.H. Kuyper Gymnasium.
Vice President for Advancement Sunny Gonzales Eighmy, Class of 1999, said 2,712 Central alumni and friends provided support for the project, the most donors ever for a college project.
"We are so grateful to all the alumni and friends of the college who have given thoughtfully and generously to help us finish this project for our students and coaches," Eighmy said. "Time and time again, members of the Central family have demonstrated their unyielding support. We send our deepest thanks for their confidence in Central and belief in our mission. Through their generosity, we are able to optimize the Central student-athlete experience now and well into the future."
The major Forever Dutch initiative construction started with a $12 million building expansion in 2017. The second $3 million phase for the lower level, which includes a new women's varsity locker room and a transformed athletic training room, was recently completed. The college quickly transitioned to the third phase, providing a $3 million renovation for the building's upper level featuring team meeting space, a new welcome center, recruitment space, offices and an updated visitor's locker room, along with a Ron Schipper Fitness Center upgrade. Most of that work should be completed by April 2021.
"There's tremendous excitement about this project with our student-athletes and coaches," says Eric Van Kley, Central's athletics director. "These facilities really make a statement about how committed the Central family is to investing in our students and in the future of this place. These are challenging times but we've not lost sight of providing for student needs that lie beyond the horizon."
In 2016, the descendants of Pella Corporation founder P.H. "Pete" Kuyper and their family foundations teamed for a $4.2 million lead gift for the complex that bears the family's name. It is among the largest gifts in Central's history. The driving force behind the family gift was Kuyper's daughter, M. Joan Farver, a former Pella Corporation chair and longtime Central trustee. Farver died in February 2017 at age 97. The new building entrance atrium was named in her honor.
Curt Blythe, Class of 1988, and Mary Holden Blythe, Class of 1990, also provided a powerful gift in the past year, with impactful contributions from several others.
The initiative was publicly announced in early 2016 but planning began much earlier, guided by the Forever Dutch steering committee with tri-chairs Pete Cartwright, Class of 1982, of Urbandale, Iowa; Dennis Hanson, Honorary Class of 2007, of Norwalk, Iowa; and Molly Parrott, Class of 2002, of Ames, Iowa.
Cartwright, a former Dutch football player who previously chaired the Finance Committee on Central's Board of Trustees, says the need was obvious before the launch.
"I looked at the students and at the coaches and I just felt like this was really an important thing for us to do," he says. "I'm thrilled we could do this and could do it without taking on any debt. It addresses a lot of needs.
"This took effort and giving from so many people and we really need to say thank you. Every gift, small and large, made a difference."
Hanson and his wife, Kris, sent three daughters to Central, two of whom competed in women's basketball. He's grateful for the record number of donors Forever Dutch generated.
"I'm extremely happy about the people who came along here this last year and got us over the hump to get that third phase started," he says. "The first-phase expansion looks great, and I can't wait to see the next phases and how they all fit together. I think it's going to be a big advantage for students in the years ahead."
Parrott was an all-America honoree in both women's basketball and softball but values the totality of her Central career.
"Central is committed to students and their on-campus experience," she says. "That high-impact experience is what a lot of students want. It's a holistic approach that means more than just playing a sport, it's about developing as a person."
The dramatic athletics facility upgrade can play a role in that.
"It's not about having a shiny new building," Parrott says. "It's about the experience it enables the college to provide."
Central has a prominent NCAA Division III athletics tradition. The Dutch have captured 11 national team championships in six sports and 36 individual NCAA crowns, with 82 top-10 NCAA team finishes and 26 NCAA postgraduate scholars.
PICTURED ABOVE: A corner of the expansive new Kuyper Gym women's locker room.
---