NBC's Smith Helping Push Forever Dutch® Project to Finish Line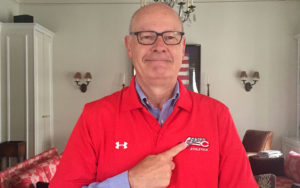 Long before Harry Smith '73 and his Central College baseball cap became familiar breakfast companions to the nation's television news viewers, his college athletics career had a less-glamorous launch.
When he enrolled at Central in the fall of 1969, basketball games were held in the old college gym, "that tiny, tiny little building," Smith recalled. He and his football teammates showered in a makeshift locker room in the basement of the Cox-Snow Music Center, adjacent to old A.N. Kuyper Stadium, turf now occupied by the Kruidenier Center and the Vermeer Science Center.
More than 50 years later, Smith, an NBC News correspondent frequently featured on "Sunday TODAY," needed little convincing in supporting Central's Forever Dutch® initiative and the $18 million renovation/expansion of P.H. Kuyper Gymnasium, the building which opened at the start of his sophomore year.
Now a Central trustee, Smith and his wife, NBC sportscaster Andrea Joyce, have given more than $550,000 toward the initiative and are helping the college barrel towards the finish line of the $3-million phase to complete a transformation of the building's upper level. It will feature team meeting space, a new welcome center, recruitment space, offices and a visitor locker room.
"Harry's contributions to Central extend far beyond his significant financial support," said Central president Mark Putnam. "As one of Central's most visible graduates, he gives so much of himself on the college's behalf. On countless occasions, he's traveled to campus to emcee events, hosted visitors in New York City and spoken with current and prospective students, while also providing a wise and respected voice among our trustees. We're deeply grateful for not only all Harry does, but for who he is."
Crews are wrapping up a lower-level renovation of the 51-year-old gymnasium, launched Feb. 24.  The work includes the construction of an expansive women's varsity locker room with a team meeting room, a reconfigured athletic training room that will provide more treatment space and an enlarged athletics equipment room. It is hoped that fund-raising efforts will allow construction workers to seamlessly transition to the next renovation phase later this fall.
The much-needed Kuyper Gymnasium facelift will be beneficial to Central's talented students, Smith said, but also helps ensure there will be even more of them in the future. He recalls the fresh smell of the tartan-surfaced playing floor when Kuyper Gymnasium opened and the energy the facility generated for campus athletes. The current renovation is creating a similar buzz.
"I've given money to the college for lots of different efforts over the years," Smith said. "But more than half of our students compete in sports and I just knew that upgrading these athletics facilities was important if we want to keep the great coaches we have and if we want to continue to attract the kind of young people who want to play and learn."
Smith, a past commencement speaker, wants to see Central transform others' lives as dramatically as it did his.
"I feel like I've led a very fortunate life, but I think perhaps the most fortunate thing that happened was making my decision to come to Central," Smith said.
Smith passed up some scholarship offers for a Dutch football tradition that was already well-established under future College Football Hall of Fame coach Ron Schipper. But he gained more than aching muscles and Saturdays in shoulder pads.
"I came to Central College to play football for Ron Schipper, and that was the only thing I knew for sure," Smith said. "But within minutes of my arrival time on campus, I realized the world was my oyster. The professors were fantastic. The personal attention was off the charts. And I went from a mediocre high school student to a hungry, insatiable college student."
After graduation, Smith parlayed his eclectic resume of football, A Capella Choir, theater productions and Bette Brunsting-led speech classes into radio station gigs in Denver and Cincinnati.
"You know, you walk off campus and you have aspirations, but you don't really know whether the preparation you've had is good enough," Smith said. "And it didn't take all that long for me to realize that I could follow my dreams. I had made the right choice. That I got to play football four years was huge. But that I also got to take classes from the range of professors who were there all those years ago and sing in the A Capella Choir and do everything else, that's crazy."
Smith later joined a CBS television affiliate in Denver, then was hired as a CBS News reporter based in Dallas. He served as co-host of "CBS This Morning" from 1987-96 and eventually as a contributor to the "CBS Evening News."
When Smith made the leap to network television, where seemingly even the part-time clerical staff had master's degrees and top-tier SAT scores, he wondered if he belonged.
"I was in an atmosphere where there were people who were Ivy League graduates and I wondered if I would stack up," he said. "And you know what? I was just fine."
Smith also hosted the A&E series "Biography" on the History Channel, then returned to CBS in 2002 to co-host "The Early Show" for eight years. He served as a senior correspondent and substitute news anchor before leaving in 2011. He became a correspondent for NBC's "Rock Center with Brian Williams" that year, leading to his current role, which this summer has him crisscrossing the country in the pandemic-protected safety of an RV.
"They keep me crazy busy," Smith said.
Few are as passionately forever Dutch as Smith, whose on-screen image often is proudly accented by a Central College softball t-shirt. His New York City office betrays even more overt evidence of media bias, with an oversized, white Central athletics "C" engulfing most of a brightly painted red wall.
Before the Internet age, spending fall Saturday afternoons chasing stories far from the land of George's Pizza without knowing the Central football score left Smith too anxiety-ridden to wait until Sunday morning to learn the result by scouring the New York Times agate, so he'd call the campus switchboard operator on Saturday nights to see if she knew. She always did.
The engaging Emmy Award-winning journalist has traversed the globe, interviewing leaders like Richard Nixon, George H.W. Bush, Barack Obama and Margaret Thatcher as well as celebrities ranging from Julia Roberts, Leonardo DiCaprio and Usher to Bob Newhart and Madonna. He's covered world-changing events like the Persian Gulf War, Hurricane Katrina and the shootings at Virginia Tech University. But to catch the ever-poised newsman finally overwhelmed by the moment, listen to the final seconds tick away in the Central football team's come-from-behind 50-49 overtime victory at Whitworth College (Wash.) in 2016, when he joined KRLS Radio sportscaster Trevor Castle and color commentator Don De Waard '82 in the booth. Smith is the one screaming, "Yessss! Yesss! Yesss!" after Kohle Helle '19 dove across the goal-line for the do-or-die two-point conversion.
His interest in the Forever Dutch® initiative is off the charts as well. Smith confesses that when the college offered a live cam view of the construction of the building's expansion during 2016-17, he was borderline obsessive about monitoring its progress, checking in every day.
It's all because of the discovery he made 50 years ago of the dynamic little campus in the gently rolling fields of central Iowa and the opportunities it unleashed. It's a story he's bursting to share with others.
"It's interesting as you meet people and they went to this school or they went to that school, and I talked to them about, well, one spring semester a bunch of us slept in a storefront church in Chicago for 10 days," Smith said. "And I got to do this and I got to do that. You know, I even acted in a play for crying out loud.
"For me, Central was a place I could flourish. As I look back at the range of choices I had, and the crazy, wild array of stuff I got to do, I can't imagine that I'd be where I am today had I gone anyplace else."
---